REVIEW: The Lost Night by Jayne Castle
Friday, December 14, 2012 1:00
Veena's review of The Lost Night (Rainshadow, Book 1) by Jayne Castle
Fantasy & Futuristic Romance published by Jove 04 Sep 12
There aren't enough authors who write futuristic science fiction and so I devour all such books that come on the market. Jayne Castle's Harmony series is set in the future, but essentially they are the Arcane series set in a future time and in a supposed different part of the galaxy that seems remarkably like a throwback to earth. I have very much enjoyed this series in the past, though this story comes up a bit short in my expectations, in spite of the very strong protagonists with their intriguing talents. The strongest emotional connection I made was to Darwinia, the dust bunny. I think she's adorable and I find her budding romance with Rex from the previous book cute.
Rachael was raised in Harmony's version of a commune. Wanting to spread her wings, she left there, but unable to find fulfillment in the mainstream world, she's retired to run a book and tea shop on Rainshadow Island. However, adventure finds Rachael in those quiet backwaters. First, she wanders over the security fence of the out-of-bounds preserve, and even though she doesn't remember any part of her adventure, she has haunting dreams of her lost night. Second, Harry Sebastian, part of the family who owns the preserve responsible for security, shows up on the island and suddenly her aura starts to resonate with him.
Harry is, in his own way, wary of the world. He's been abandoned by his wife, even after a covenant marriage when she can't deal with his dark talent. However, he is deeply attracted to Rachael, even while fighting his attraction as he works to solve the mystery of what's happening on the Preserve. Ultimately it's the expected story of greed and avarice and a falling out between partners. There are some very sweet moments, like when Harry saves Rachael when someone sets fire to her house and she discovers his dark talents that he's been trying to keep hidden from her.
There's a not of substance to the story. Though the characters of Harry and Rachael are appealing, there are no strong secondary characters to really provide complexity and body to the story. The end is somewhat predictable, though the adventures in the preserve and what they find are an interesting stretch of imagination.

Summary:

Even the mysterious world of Harmony has people who don't quite fit in. They're drawn to places like Rainshadow Island, a beautiful sanctuary where anyone can feel safe—and where secrets are closely guarded…
Schooled in an exotic form of martial arts, and with the ability to detect the auras of dangerous psychic criminals, Rachel Bonner and her dust bunny companion have found peace and quiet on Rainshadow Island, operating a bookstore and café.

But her tranquil new life is thrown into chaos when Harry Sebastian, the descendant of a notorious pirate, arrives to investigate strange developments in the privately owned woods known as the Preserve.

Immediately drawn to the amber-eyed woman, Harry must tread carefully. While Rachel's special talents can help him track down dangerous rogues who have violated the Preserve, they can also sense the heart of darkness within him. But desire can weaken the strongest of defenses—and leave even the strongest man wanting more…
No excerpt available
Other books in this series: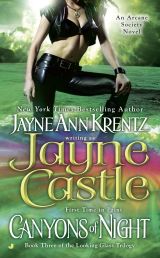 You can follow any responses to this entry through the
RSS 2.0
feed.
Responses are currently closed, but you can
trackback
from your own site.