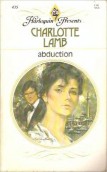 Bam's review of Abduction by Charlotte Lamb
Contemporary Romance published by Harlequin Presents 01 February 81
I have never come across a heroine in a contemporary romance novel so broken and weak that I don't want her to end up with anyone at all. That the only happy ending I want for her is a safe place in a high-walled, gated institution where there will be well-paid, caring people watching over her, guiding her, and counseling her until she is well enough to stand on her own two feet. She could learn how to paint there or make ceramics while meeting like-minded people going through the same pain and heartaches as she is. She could learn to love and trust other human beings.
This is the type of help that Marisa Radley needs in the beginning of the novel and what she obviously frickin' needs throughout the novel, but doesn't ever receive. Our hero, Gabriel Radley, while a little overbearing and maybe a tad bit intense, is not a horrible guy, but he is so besotted and obsessed with Marisa that he doesn't see that she needs more help than he's capable of giving. I hate to say this because I'm obsessed with HEAs and must have HEAs in my romance novels, but this is one Harlequin Presents that would have ended better had the hero and heroine parted ways at the end, with the hero getting custody of the baby while the heroine gets well in a serene oceanside mental facility far, far away. Maybe, six months down the road, they can try again and Marisa will be more emotionally and mentally prepared to accept Gabriel's brand of intensive love, but as she is at the start of the novel… well, let me explain.
read more…