REVIEW: Rainshadow Road by Lisa Kleypas
Sunday, June 17, 2012 1:00
Laura C's review of Rainshadow Road by Lisa Kleypas
Contemporary Romance published by St. Martin's Griffin 28 Feb 12

Okay, I realize I had overly high hopes for this one—I love contemporary romances and I melt glass myself. But we didn't actually get to see much of Lucy's glasswork. There's a hint of magic in the way Lucy relates to glass, and we get plenty of that aspect but none of the relentless, grinding detail work that makes glass both so ghastly and so wonderful for everyday people.
But that's nitpicking. Most people won't ever notice the lack because they've never had their hands on massive sheets of colored glass or cut them up to fuse them in a kiln. What they will notice is the fact that this reads far more like women's fiction than romance. That's not a bad thing, but the voice and tone are all wrong for romance. I feel distant from the characters most of the time during what should have been the close, romantic, emotional moments.  That distance doesn't allow a reader the personal connection and immediacy one expects from romance.
Lucy's sister Alice was very sick as a child and, as a result, Lucy has always played second fiddle
On the other hand, the moments that really shine in this book are the touches of humor and the relationships between the women. This is a perfect example:
"It's only been two months since my breakup. And the rule is that you have to wait for exactly half the time of the relationship . . . which for me would be about a year."

"That's not the rule," Justine exclaimed. "You only have to wait one month for every year of the relationship."

"I think all these rules are ridiculous," Zoë said. "Lucy, you should let your instincts guide you. You'll know when you're ready again."

"I don't trust my instincts where men are concerned," Lucy said. "It's like this article I read the other day about the decline of the firefly population. One of the reasons they're disappearing is because of modern artificial lighting. Fireflies can't find the signals of their mates, because they're so distracted by porch lights, streetlamps, illuminated sign letters . . ."

"Poor things," Zoë said.

"Exactly, Lucy said. "You think you've found the perfect mate and you head for hi, blinking as fast as you can, and then you find out he's a Bic lighter. I just can't handle that again."
That's good stuff.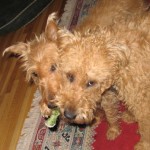 Grade: C+
Summary:

Lucy Marinn, a glass artist who lives on San Juan Island, has just been dumped by her boyfriend Kevin. Needing some privacy and time to think, she goes to a nearby beach and meets a dark-haired stranger . . .
Read an excerpt.
Other books in this series:
Crystal Cove – 2012
You can follow any responses to this entry through the
RSS 2.0
feed.
Responses are currently closed, but you can
trackback
from your own site.