REVIEW: Oracle's Moon by Thea Harrison
Wednesday, March 21, 2012 1:00
Veena's review of Oracle's Moon (Elder Races, Book 5) by Thea Harrison
Paranormal Romance published by Berkley 6 Mar 12

The Elder races – Wyr, Elves, Fae, Vampyres and Demon kind – are well known and assimilated if not always liked and accepted. Oracle's Moon is the fourth book in Thea Harrison's Elder Race series. It's like a fairy story where the villains are destroyed and true love triumphs against all odds and there's even an evil witch to vanquish.
Grace Andreas is an Oracle descended from the original Delphi Oracles. Grace's life has been thrown into turmoil after she lost her sister and brother-in-law in an accident in which she too was badly injured. Grace is struggling against huge odds, recovering from an accident that took the life of her sister and brother-in-law, caring for her orphaned niece and nephew, coming to terms with her newly inherited power of the Oracle and with little money or resources to help her cope.
Her path unexpectedly crosses with Khalil, a high ranking Djinn, who escorts Vampyre Queen Carling and her mate, the Wyr sentinel Rune, toward the end of Serpent's Kiss to her house in search of a prophecy. Khalil is intrigued and protective of the fragile human children while he is quite removed from the daily realities of Grace's life. As Grace comes into her own and takes control of her powers, Khalil starts to move from curiosity to fascination to love.
While the love story proceeds along a relatively smooth path, there are twists and plots that keep the story interesting. Characters from previous books pop in and out. I would recommend that you read the previous books, if possible, before reading this one, but most particularly Serpent's Kiss, since this almost seems like a thread that started in that book and lightly crosses over and touches the characters and continues their story as well. I find the book refreshing; an old-fashioned love story with paranormal tones.
Summary:

As a second daughter, Grace Andreas never had to worry about the intrigues of the Elder Races. But when her sister, Petra, and Petra's husband are both killed, Grace inherits the Power and responsibilities of the Oracle of Louisville, as well as her sister's two young children – neither of which she is prepared for.

Yet, she is not alone. Khalil, Demonkind and Djinn prince of House Marid – driven by his genuine caring for the children – has decided to make himself a part of the household both as their guardian and as an exasperating counterpoint to Grace's impudence toward the Elder Races.

But when an attempt is made on Grace's life, she realizes that Khalil is the only one who can protect her – and offer her more than a mortal man…
No excerpt available.
Other books in this series: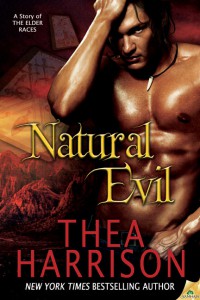 You can follow any responses to this entry through the
RSS 2.0
feed.
Responses are currently closed, but you can
trackback
from your own site.