REVIEW: She's Got It Bad by Sarah Mayberry
Saturday, June 13, 2009 13:00
Holly's review of She's Got It Bad by Sarah Mayberry
Contemporary Romance released by Harlequin Blaze 1 Apr 09
I've been hearing a lot of great things about Sarah Mayberry, so I decided to check her out. I was really impressed with how unconventional the heroine is, even for a contemporary romance.
When the blurb says, "Zoe is as tough and wild as they come" that's absolutely the truth. Though she was a quiet good-girl twelve years ago, she grew up hard and fast. Now she's a tattoo artist and the lead singer of a punk rock band. She's taken her share of hard knocks, but she's doing the best she can. Although she wishes she could go back into the past and change some things, she's accepted her lot in life and is determined to do things her own way.
When Liam sees a naked painting of Zoe at an art gallery he knows he has to find her and help her out. The Zoe he knew twelve years ago never would have done something like that. But twelve years is a long time and Liam is surprised at the changes in Zoe. Not only is she tough and wild, but she's completely comfortable with her sexuality. Not that he's interested..well, ok, so he's really interested, but he doesn't want to take advantage of her. He only wants to help get her back on her feet. Walking away from her twelve years ago was one of the hardest things he's ever done..so there's pretty much no chance in hell he'll be able to walk away again.
The attraction between these two was sizzling hot. Their sexual chemistry crackled. Not only that, they truly did have an emotional connection. I thought it was it was a wonderful that Liam wanted to help Zoe just to help her. He wasn't looking for anything in return, and he wasn't smug or condescending or trying to make himself look/feel better, he just wanted to help out the girl he once loved.
As I mentioned above, Zoe was a very unconventional heroine. She drank hard liquor, danced dirty and worked in a tattoo parlor. She also had a lot of emotional scarring. With Liam's help she was able to work past many of her issues, but I like that she'd never completely be able to let everything from her past go. That was totally realistic. Though we often move on from things in our past, they shape who we are in the future. Mayberry really nailed that with Zoe.
I did have a few issues with both characters, however. Mostly because neither wanted to set their pride aside for the other. Not only that, but each swore they knew what was best for the other. Liam walked away from Zoe twelve years ago because he knew she'd be better off without him and even after all that time he still thinks it's true. Because of things that happened to Zoe in her past, she's convinced Liam would be better off without her. Plus, either are really willing to put themselves out there.
Despite that I really did enjoy the story. The characters were well developed and was emotionally engaging. I'll definitely be looking for more by Sarah Mayberry in the future.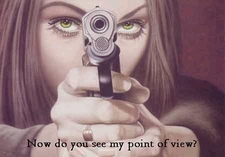 Grade: B+
Summary:

Twelve years ago Zoe Ford let Liam Masters break her heart. But now? There's not a chance. Zoe is as tough and wild as they come. So when Liam shows up at her tattoo parlor, she's more than ready to take him on again. That's not going to be a hardship, since he's hotter than he ever was.

This time she's staying in charge. And she's not going to consider their score settled until he's hot, bothered and begging for more! Then she'll move on as callously as he left her. Unless all that deliciously bad sex is just too good to give up…

Read an excerpt
You can follow any responses to this entry through the
RSS 2.0
feed.
Responses are currently closed, but you can
trackback
from your own site.