DUCK FLASH: Our Planet Needs YOU!
Friday, May 9, 2008 11:19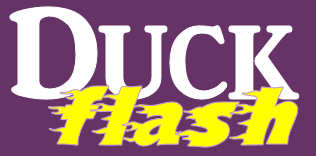 This just in…
Romance readers unite! If we can help save the ferret, we can help save the earth! Get your creative juices flowing and do your part to help keeping our planet healthy and green.  Even if you think Global Warming is a natural planetary trend, you can't deny we can do more to support our ecology.  Read on to find out how you can do your part…
Author James Patterson is supporting this effort with his new YA/Adult crossover series Maximum Ride, along with Do Something. Here's your chance to go here to find out how you can create your own PSA depicting what you would do to help the planet.
Your winning PSA could help you:
Win a trip for two to either Los Angeles or New York.
Get your PSA seen nationwide.
Receive a $500 grant to DO SOMETHING in your community.
Need some ideas to get started? Go here.
Read up on climate change here.
Consider yourself flashed.
You can follow any responses to this entry through the
RSS 2.0
feed.
Responses are currently closed, but you can
trackback
from your own site.