REVIEW: My Lady Mage by Alexis Morgan
Friday, September 7, 2012 1:00
Veena's review of My Lady Mage by Alexis Morgan
Paranormal Romance published by Signet 03 July 12
RWA in Anaheim was my very own fantasy where I got to meet a lot of old friends who have earned their place on my bookshelf, as well as a lot of new friends whom I look forward to getting to know better. I almost did not recognize Alexis Morgan of the Paladins and Talions in her transformation into an almost medieval fantasy romantic as she launches her new series called Warriors of the Mist with My Lady Mage.
Merewen is desperate to save her people from the cruelty and oppression of her uncle and his men invoke ancient magic to call for a champion. Is her cause just? Will the gods grant her the boon she requests? As she almost despairs getting an answer, a band of five warriors emerge from the depths of the river. Centuries have passed since these warriors were condemned to exist in a semi-comatose state under the cold and dark of the water, awaiting a worthy quest and their next opportunity for redemption.
As they emerge, they are a frightening sight, causing Merewen to drop into a dead faint. However, she is brave as well as resourceful, and upon recovering quickly she warms to the warriors as she leads them into the woods. Pretty soon she signs up to take the punishment of being caught in the woods by her uncle's men in order to keep the warriors hidden. You can imagine how well that went over with her alpha male saviors.
As the warriors assess the situation, they find that there is more wrong with the land than just her uncle's brand of leadership. There are hints of dark and ancient evil that pervade the landscape. Gideon's avatar Scim is attacked and barely survives. It appears that the Duke of Kierthan, ruler of Agathia, is using blood magic to fuel his power. The depths of his depravity and evil are just hinted at, so I assume his character will be fully fleshed out as the series continue.
As the warriors mobilize their resources and create their battle plans, it is clear that there is a strong attraction between Merewen and Gideon, captain of the warriors. Merewen is a strong, independent woman, almost a bit stubborn but also a talented healer and horse whisperer. I really like how the author uses the scene with the horses bonding with their chosen riders also gives us insights into each warrior's personality.
Gideon is the model of a noble warrior. He has made grave mistakes in his past which have led him and his friends to pledge their eternal souls to the Gods for a chance at redemption. His anguish as he struggles against his attraction to Merewen and his desire to submit to their physical union pitted against the need to put his friends and their quest first give us a look into the strength of his charactor. Gideon, from the get-go, has been attracted to Merewen. He succumbs to temptation, but his nobility shines through in the choices he makes. You can only feel more connected to this character after his backstory is revealed.
This book is truly a set-up book where the author introduces us to the characters and sets up the scene for the future books and quests. Merewen and Gideon's love story seems to a bit rushed and not as developed as I would have liked; however, we are left with a to-be-continued feeling at the end of the book, so perhaps this will develop more as the series goes on. We meet each of the warriors and get a glimpse of their past, and at every turn of the page, we get confirmation of their loyalty and friendship to each other and most particularly to Gideon, their leader. There is a very sweet secondary story with Merewen's Aunt Alina and Murdoch, one of the warriors. It is not clear whether this secondary story will continue to develop over the series or if Murdoch will have his very own book.
We are left to wonder at the depths of depravity and evil as we get introduced to the Duke of Keirthan. As Kane and Duncan set off on their quests to learn more about the blood magic and the tools to fight it with, there is no doubt that he will be fleshed out more fully later on.
While I am intrigued at the future possibilities and look forward to the development of the series, I have to say that I'm left just a bit disappointed with this book on the romance and excitement front. I have always enjoyed the author's books in the past and hope that the series will deliver on the promise that it hints at.


Summary:

A cursed destiny. A band of warriors. And one troubled kingdom.

It is whispered in Agathia that the legendary warriors of the mist-cursed by the gods-can be summoned only when a champion is needed and the cause is just. Gideon, their captain, knows this to be the one path that will lead his men to redemption-lest they face an eternity of damnation.

Years have passed since anyone has journeyed to the river's edge, but times are desperate. Oppressed by a cruel guardian whose dark magic threatens to destroy her people, the beautiful and courageous Merewen calls upon the bespelled warriors. In Gideon she finds more than a champion, and in his arms, more than protection. However, their enemies are fighting with a power darker than anything than they imagined, and should Gideon fail, she will lose everything she holds dear-including her heart.
Read an excerpt.
Other books in this series: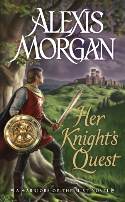 Honor's Price – Spring 2014
You can follow any responses to this entry through the
RSS 2.0
feed.
Responses are currently closed, but you can
trackback
from your own site.