RWA 2010 – A Night of Fun, Laughter and Tears
Saturday, July 31, 2010 23:08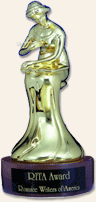 Romance Writers of America ended their week-long conference in Orlando with laughter, tears, and love, all emotions that these authors and friends use to create their compelling romantic novels, which ultimately led them to be nominated for RWA's Golden Heart and RITA Awards.
Everyone knows romance authors have a way with words of love, grief, vulnerability and anxiety, happiness, sadness, and, of course, romance, but who knew they're capable of rocking a room with laughter??
From light chuckles to roaring out-loud guffaws to a few unexpected tears, the 2010 Golden Heart and RITA winners gave conference attendees a night to remember for months to come. Most joked they appreciate the fact their husbands and children have learned over the years to leave the family writer alone as they work their magic, while one winner tugged her hero husband onto the stage with her to show her love and appreciation for his support to the audience.  And there were plenty of tears of joy and triumph shed by winners during their acceptance speeches.
Even emcee Sabrina Jeffries contributed to the fun with her running dialogue and attempts to heist one of Nora Roberts' numerous RITA statuettes, lamenting the romance queen will never miss the loss of one of her golden beauties.
Here is a list of the 2010 RITA and Golden Heart winners:
RITA Award:
Best Young Adult Romance – Perfect Chemistry by Simone Elkeles
Best Inspirational Romance – The Inheritance by Tamera Alexander
Best Novel With Strong Romantic Elements – The Lost Recipe for Happiness by Barbara O'Neal
Best Romance Novella – The Christmas Eve Promise in The Night Before Christmas by Molly O'Keefe
Best Contemporary Series Romance – A Not-So-Perfect Past by Beth Andrews
Best Contemporary Series Romance Suspense/Adventure – The Soldier's Secret Daughter by Cindy Dees
Best Historical Romance – Not Quite A Husband by Sherry Thomas
Best Regency Historical Romance – What Happens In London by Julia Quinn (Julia Quinn was also inducted into RWA's Hall of Fame for winning three RITAs in the same genre category)
Best Paranormal Romance – Kiss of a Demon King by Kresley Cole
Best Romantic Suspense – Whisper of Warning by Laura Griffin
Best First Book – One Scream Away by Kate Brady
Best Contemporary Single Title Romance – Too Good To Be True by Kristin Higgins
GOLDEN HEART:
Best Young Adult Manuscript – Unchosen by Erica O'Rourke
Best Inspirational Manuscript – Unforgiven by CJ Eerniss Chase
Best Novel With Strong Romantic Elements Manuscript – A Place At The Table by Patricia O'Dea Rosen
Best Contemporary Series Romance Manuscript – Fake Fiancee, Real Love by Cat Shield
Best Contemporary Series Romance: Suspense/Adventure Manuscript – See Jane Run by Angela Platt
Best Historical Manuscript – Between Heaven and Hell by Jacqui Nelson
Best Regency Historical Manuscript - A Most Improper Gentleman by Elisa Beatty
Best Paranormal Romance Manuscript – Bloodborn: Book One in the Light Blade Series by Kylie Griffin
Best Romantic Suspense Manuscript – The Yard Man by G. Jillian Stone
Best Contemporary Single Title Manuscript – Songbird by Lizbeth Selvig
You can follow any responses to this entry through the
RSS 2.0
feed.
Responses are currently closed, but you can
trackback
from your own site.