GUEST BLOG: Emotional Cowboy Reunion by Leah Braemel
Tuesday, November 26, 2013 10:00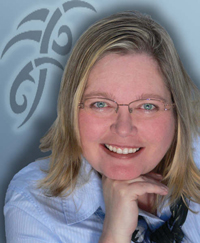 Thanks so much for hosting me to talk about Slow Ride Home, the first book in The Grady Legacy trilogy. When my editor first contacted me about writing another contemporary western for Carina, I knew right from the start that I wanted it to be a reunited lovers story—there's something about the idea of having a second chance that I find enticing.
When they first reunite, neither Ben nor Allie are expecting to still be attracted to each other, especially Allie who was forced off the ranch in disgrace. Now Allie's job brings her back to Bull's Hollow and the two must learn how to work together or Allie loses her job and Ben might lose the family ranch. Fifteen years can change a person, their perspectives, their needs, their dreams and their desires; Ben and Allie are no different, though Allie has become a stronger person for the adversity she's faced. And I think that gives her a better chance at holding her own while dealing with the head strong Gradys.
Her emotions swirled like the clouds over the distant hills. Fear that she'd lose him, fear that she'd lose herself, anger that he'd put himself in danger, anger that she'd let herself fall completely in love with him again. Not just with the way his body had curved around hers, or the way he knew just how to touch her. He cared about people. About his employees, and his animals. He worried about his grandma and how she was faring, about his mother coping with his father's death. He'd taken all of their burdens on his own, and if she let him, he'd carry hers too.
After being unceremoniously tossed from Bull's Hollow, and being rejected by her father, she'd craved affection. Yearned to be special to someone again. Which explained why she'd fallen into Lewis's arms far too quickly. He'd paid attention to her, given her little compliments that made her feel visible, valuable; he'd manipulated himself into her life and taken over before she'd realized it. When she'd realized she'd lost herself, changed herself, and tried to become the person she'd once been, he'd pulled away.
While Ben wasn't the secretive type, and because he wouldn't manipulate her or try to change who she was, it was no wonder she'd lost her heart to him so easily.

"You know what I think?" Ben interrupted her thoughts. "I think you're thinking too hard. Don't pretend you didn't get scared when I went under. I think you care about me."

"Of course I got scared." Am scared. She forced herself to turn around to discover he hadn't moved, but the softness in his eyes had sharpened. "Who in their right mind wouldn't have been scared?"

"You never used to be so cautious. Instead of debating whether to stay in the lean-to or run to the house, you'd have been challenging me to a race. After you'd already started running."

"And I'd have won too," she said softly. "If I didn't get struck by lightning or slip in the mud and fall on my ass. Caution isn't bad, you know. I was reckless back then."

"Headstrong, maybe. Exuberant, definitely." He rested his hands on her waist, his thumbs stroking beneath the swell of her breasts. "But now it's like you have to think everything through a dozen times before you act."

"I've grown up. I've learned some things are worth thinking about twice."
[Ed. Leah is holding a contest for the length of her blog hop, giving away a $25 Lush Gift Certificate and a digital copy of the winner's choice from her backlist at each stop. Go to Rafflecopter for the main contest and leave a comment here for a chance to win that ebook from Leah!]
You can follow any responses to this entry through the
RSS 2.0
feed.