REVIEW: One Wrong Move by Shannon McKenna
Tuesday, October 2, 2012 1:00
Laura C's review of One Wrong Move by Shannon McKenna
Romantic Suspense published by Kensington Sep 25 12

Here's the thing about Shannon McKenna: if you're willing to exile your disbelief to a desert island, she will take you on a grand adventure, filled with alpha males, determined women, great sex, adventure, violence and, of course, true love.
As her "McCloud and friends" series has progressed, disbelief has become harder to suspend, but for a good enough ride I am willing to shove the little voice that goes "oh, sure, right" in a dark closet pretty hard. And since I've been waiting for Alex Aaro's story for a while now, I wasn't about to let to let a little thing like realism intrude on my enjoyment.
Alex has always been something of a mystery. He shows up when needed in the McCloud books, gets injured a lot, and disappears. He's the ultimate tough guy. He maintains that in this book.
Nina is not tough. Oh, she'd like to be, and she tells others how to be, but she's spent a lot of her life hiding.
She went to insane lengths to avoid confrontations. Violence, physical or verbal, shortened her breath and messed with her digestion. Sometimes she had to turn off the TV or walk out of movies if the screen characters were fighting. It was classic Stan fallout, of course, so she should be able to deal with it, right? But alas, it was never that easy. Just one damn mountain to climb after another. A girl got tired. Unfortunately, all of life's endeavors that were worth the effort required the basic guts to face down opposition. Especially if one was advocating for victims of violence and abuse. No matter what one did, there would always be someone pissed off at her for doing it, or who thought that it had been done wrong, or whatever. It was a natural law, like thermodynamics. If you did anything beyond eating your breakfast cereal, you were sure to catch some shit for it. It all boiled down to getting a frigging spine. She tried, every day. With limited success, but hey, the effect of constant water on a stone, right?
And her hiding turns out to be a psychic power…because this is a Shannon McKenna novel. The bad guys in this installment have a drug that enhances any latent psychic abilities they might have. Unfortunately, the version they have is weak, and the woman who's developed a stronger version has died before giving them the formula. But they are convinced that Nina has it…and she does. But it's running through her bloodstream, because just before her death, the developer attacked her and shot her up with it.
Alex owes a favor to a friend of Nina's, so he's trying to protect her. But neither of them knows exactly where they are going or what they are up against.
Still, on the run, pursued by psychic thugs and brutish murderers, they manage to find time to have some of McKenna's trademark hot sex:
He shampooed her hair, staring at how drops of water slid along the perfectly engineered grain of her eyebrow hairs and then tangled into her wet eyelashes like trapped diamonds. Soaping her up with shower gel, rinsing her, again and again. Rinsing was excellent. The truncated nature of his previous sexual adventures had never involved morning-after showers, so it was a happy discovery, all those tender, slippery inside bits that required protracted petting and delving and stroking to get them soap-free. Lather, rinse, repeat . . . repeat . . . repeat. Fingers deep in her pussy, seeking out that hot clenching pulse. God, he loved to make her come. Any way was fine, fingers, tongue, cock, it was all good. He dropped to his knees to nuzzle Nina's belly, parting rivulets of water with his nose, licking, kissing right down into that sodden puff of hair that he'd been lathering up. He buried his face in it. Sweet relief, oh, God, yes.
This book is a ton of fun, as are most of McKenna's books. There are a couple of copy-edit issues (for example, at one point Alex is driving before he actual picks up his rental car), but the copy I read is an ARC, so I hope they will be corrected by the time this book is released.
Frankly, though, I would start at the beginning of this series. On all eReader platforms, there are big, full-series packs that allow you a nice discount over buying the books one at a time. But if you decide to go that route (which I do recommend!), be sure not to read the books in the order they show up in in the compilation. I am not at all sure why, but for some reason they've got them in a very odd order. Follow the series list or you will find yourself completely confused!
But even if you don't want to invest in the series, this is a fine book to start with since it's only tangentially related to the McCloud books.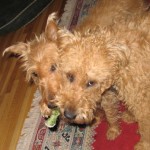 Grade: A-
Summary:

Alex Aaro just wants to keep his head down and earn a living. But now his crazy Aunt Tonya is dying. She's the sole family member he gives a damn about, enough to blow decades of hiding out from his Ukrainian mafia clan in order to say goodbye. Just as Alex lands in New York, his friend Bruno calls for a favour. He wants Alex to take a detour to a women's shelter in Brooklyn to help out his wife's friend Nina Moro.

Social worker Nina is baffled by the sudden appearance and bizarre behaviour of her own aunt, and afraid she'll get herself killed if she makes a wrong move. But when the woman's attackers turn on Nina, only Alex's lean muscle and seething bad attitude stands between her and an ugly death. Now, holding the clues to a deadly secret, Alex and Nina must race against time and face their deepest fears to unveil it before it destroys them…
Other books in this series:
You can follow any responses to this entry through the
RSS 2.0
feed.
Responses are currently closed, but you can
trackback
from your own site.