REVIEW: Can't Buy Me Love by Molly O'Keefe
Tuesday, June 26, 2012 1:00
Laura C's review of Can't Buy Me Love by Molly O'Keefe
Contemporary Romance published by Bantam 26 Jun 12

It's rare enough nowadays to find a straight contemporary romance that I will give almost anything a shot. In this case, I'm very glad I did! Even though the plot is an old one (guy thinks girl is gold-digger after his father's money), O'Keefe freshens it up with a very different cast of characters than the "norm" and with wonderful dialogue and a splash of suspense.
Luc and Tara Jean have a lot in common, though neither wants to admit it. They both changed their names. They are both severely damaged by a history of parental neglect and/or abuse. They both have peculiar ideas of where their worth lies. And they're both going to have to get past giant chips on their shoulders if they're going to have a future…either together or apart.
Tara Jean isn't the typical "heart of gold" heroine, which is a real relief. Her squalid past leads her into a partnership with a con man, Dennis, who teaches her to get on the good side of lonely old men in nursing homes who would then give her money. She eventually rebels, but not until she's 29. At which point, Dennis beats her up and she lands in the hospital, where she meets Lyle, who promises her a part in his leather business if she helps him get his children to come home by playing the gold-digging fiancée. So she changes her name to escape Dennis and joins Lyle in his scheme.
And Lyle isn't the typical neglected father, either. He beat both of his children and never gave them approval, so they have no desire to return home. In fact, if Victoria, his daughter, weren't desperate for her inheritance, even this ruse wouldn't be enough to convince them to return. But she is, and Luc won't leave his sister to suffer alone.
Luc became a hockey star (and changed his name from Wayne to spite his father) to gain some self-worth after the years of disapproval. But it didn't work, and now his hockey career is ending because of one too many concussions. So when his father's little game forces him back to the homestead, and then his father dies without a kind word to him, Luc's mood is pretty foul.
But even the concussions, the frontal lobe scar tissue, the possible brain-eating proteins and the blinding headaches don't make Luc a stupid man. Once the anger dissipates a bit, he realizes Tara Jean isn't quite what she seems. The romance develops at a good pace–not too quickly or too slowly–and Dennis' reappearance in Tara Jean's life is just the prod she needs to face the demons of her past and get on with her future.
If you enjoy contemporaries, this is one you won't want to miss.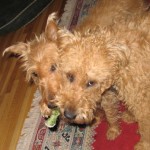 Grade: A
Summary:

A girl from the wrong side of the tracks, Tara Jean Sweet knows that opportunity will never knock; she'll have to seize it. Elderly Texas rancher Lyle Baker has a dying request: He will give Tara Jean a stake in his leather business in exchange for a little family subterfuge. All Tara Jean has to do is play the part of a gold-digging fiancée to lure Lyle's estranged children home. The mission is soon accomplished.

Now Lyle's gone—and his ridiculously handsome son, Luc, an ice hockey superstar sidelined by injuries, is the new owner of Crooked Creek ranch. He's also Tara Jean's boss. But being so close to sinfully sweet Tara Jean does crazy things to Luc's priorities, like make him want to pry her deepest secrets from those irresistible lips. But when Tara Jean's past demands a dirty showdown, will Luc stay and fight?
No excerpt available.
Other books in this series:

You can follow any responses to this entry through the
RSS 2.0
feed.
Responses are currently closed, but you can
trackback
from your own site.