DUCK CHAT: Getting to Know Alexandra Hawkins
Wednesday, February 3, 2010 10:00

So glad you could make it back to Duck Chat!
Alexandra Hawkins joins us today, so sit back and enjoy!
Starting off strong with her Lords of Vice series, Alexandra is a new voice in the historical romance genre. All Night with a Rogue, her debut book, kicks off the three-book series that will hopefully expand to cover all seven of the fascinating rakes she's given readers in ANwaR. So if you love a bad-boy hero, you're going to have a heck of a time reading these books.
Alexandra is married and lives with her family in Georgia. Like the rest of us, she discovered romance at an early age. That helped fuel her already fanciful imagination, and now her first book is published. A dream come true all authors can attest to.
Be sure to leave Alexandra a question or comment, because she's very graciously offered up a copy of All Night with a Rogue to one lucky reader.
Now let's chat!
DUCK CHAT: Welcome to The Good, the Bad and the Unread, Alexandra. Let's start off by talking about your new series, Lords of Vice, generally and then we'll get to those handsome lords individually. Would you tell our readers about the series overall, where the idea came from, and did it turn out as you originally envisioned?
ALEXANDRA HAWKINS:   Thanks for inviting me to stop by, TGTBTU!
I came up with the general concept for the Lords of Vice series first.  I have a weakness for bad boys, and the Regency rake has always been one of my particular favorites.  My short pitch for the series was:
Notorious, decadent and outrageously handsome, the Lords of Vice prowl the glittering ballrooms of Regency London's polite society, breaking rules and setting hearts aflutter while they indulge every carnal whim . . . every desire . . .
Just reading it again, gives me all sorts of ideas!  I decided to give my rakes their own private club so there was a constant in the series that connected the seven men while each book focused on a different hero.
I only have one book out, but I'm happy with the results so far!
DC: If you could retire any interview question and never, ever have it asked again, what would it be? Feel free to answer it.
AH:  That's an easy one.  Where do you come up with your ideas?  It's a fair question but it's not like there's an idea spring in my backyard.  Ideas for stories come to me at odd times.  I might be vacuuming the living room when a scene pops into my head.  Or I might see something on TV that inspires me.  I've even used ideas that I've culled from my dreams.
DC: I've heard writers often say their stories take them in surprising directions, or dialogue flows from some unknown place. Is it the same with you? Do your characters surprise you sometimes?
AH:  Often.  I usually just go with it.  I've come up with some interesting scenes because I've let my character have his or her way.  Other times, it's frustrating.  Frost, in particular, was a very difficult character because he didn't want to cooperate.  I remember emailing one of my friends and telling her that Frost was a complete ass and I was tempted to kill him off in the first book.  I didn't.  Now that I'm working on book three, I'll admit that his quirky sense of right and wrong has grown on me.
DC: The first book in your series is All Night with a Rogue, which was just released yesterday. We meet Sin and Juliana in this book. Would you tell our readers about them and give them a sneak peek into their story?
AH:  When the story opens, Sin has begun to question his life.  He's bored, cynical, and he craves a challenge.  He initially thinks his host's wife will cure his ennui until he glances up and sees the heroine perched in a tree.
For Juliana, this is her first visit to London.  Her mother has brought Juliana and her sisters to town in hopes of securing solid matches for them because the family is in a financial fix.  Juliana has doubts about her mother's plans, and longs to explore her secret dream of having her musical compositions published.
DC: Do you ever argue with your characters while you're writing? Who usually wins?
AH:  Sometimes.  It's usually the male characters that cause trouble.  I wish I could say that I win all the arguments, but twenty-one years of marriage have taught me the art of compromise.
DC: What is sure to distract you from sitting down and working/writing?
AH:  A really bad migraine.
DC: What is it that draws you to write historicals, especially the Regency era?
AH:  The first romances that I glommed were traditional Regencies.  I fell in love with the country houses, the costumes, and elegance of the period.  That world seemed so perfect.  So much so, I didn't quite trust it.  As a writer, I longed to pull off those polite masks and ferret out everyone's dark secrets.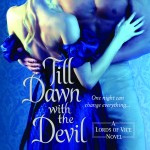 DC: Till Dawn with the Devil is due out in August. This is Gabriel and Sophia's book. Would you give us some insight into their relationship?
AH:  Gabriel, known as Reign, hasn't been very lucky when it comes to love.  His first marriage was a loveless, grievous debacle.  When his pregnant wife was found dead at the foot of her bed, many people believed he had murdered his wife in a drunken rage.
Lady Sophia has felt like a burden her entire life.  A terrible childhood accident left her visually impaired so her independent spirit has been battered by her limitations.  Her wastrel brothers ignore her, which usually suits her.  However, she's lonely and longs for some excitement in her life.
Then Lady Sophia meets Reign, and her adventure begins!
DC: Is there a genre you haven't tackled but would like to try?
AH:  Within the romance genre, I wouldn't mind trying my hand at romantic suspense or something paranormal.  Outside the romance genre, I'd lean toward horror.
DC: What advice would you give to your younger self?
AH:  Trust your instincts.
DC: If you were a book, what would your blurb be?
AH:  She looks before she leaps.  She also draws diagrams.
DC: What would be your "voice's" tagline?
AH:  Dark and edgy with a splash of humor.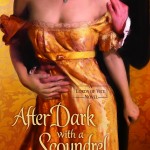 DC: The next book in the series is After Dark with a Scoundrel. Can you give us just a hint of what to expect when it's released in 2011?
AH:  Book three is Dare and Lady Regan's story.  Lady Regan is Frost's younger sister, and let me tell you, she can be just as unpredictable as her brother.
DC: If you had never become an author, what do you think you would be doing right now?
AH:  Good question.  I need a creative outlet, so I probably would have started my own business.
DC: Do you have any works in progress you can tell us about?
AH:  Till Dawn With the Devil is in production.  I'm also working on the first draft for After Dark With a Scoundrel.
DC: What else is on the horizon for Alexandra Hawkins?
AH:  I hope to write more Lords of Vice stories.  If not, I'll move on to another project.
Lightning Round:
- dark or milk chocolate?    – Dark
- smooth or chunky peanut butter?    – Chunky
- heels or flats?     – Flats
- coffee or tea?     – Tea
- summer or winter?      – Summer
- mountains or beach?      – Beach
- mustard or mayonnaise?      – Mustard
- flowers or candy?    – Flowers
- pockets or purse?      – Purse
- Pepsi or Coke?     – Coke, preferably Cherry Coke Zero
- ebook or print?     – Print
And because we still enjoy the answers we get:
1. What is your favorite word?    – Yes
2. What is your least favorite word?   – Whatever
3. What turns you on creatively, spiritually or emotionally?     – Music
4. What turns you off creatively, spiritually or emotionally?     – In-laws
5. What sound or noise do you love?     – Laughter
6. What sound or noise do you hate?     – That beeping sound the garbage truck makes
7. What is your favorite curse word?    – Crap
8. What profession other than your own would you like to attempt?      – Archeology
9. What profession would you not like to do?     – Animal Artificial Insemination Technician
10. If Heaven exists, what would you like to hear God say when you arrive at the Pearly Gates?   – "You did good, kid."
DC: We're so glad you were with us today, Alexandra. Thank you!
You can follow any responses to this entry through the
RSS 2.0
feed.
Responses are currently closed, but you can
trackback
from your own site.