Ritawhat?
Saturday, April 29, 2006 22:33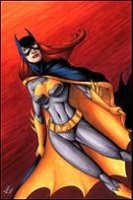 Wendy proves once again that she is the smartest
There's another dust-up brewing online over the RITA judging, the most interesting being Jamie Sobrato receiving a comment that her Blaze novel had "no strong romantic elements." Basically it wasn't a romance. Intriguing since last time I checked, Harlequin required books in the Blaze line to be romances. But what do I know?

Now I'm not very well read in the Blaze line, but I find it hard to believe that they all suck so bad that not one was capable finaling in the RITA the last couple of years. Which begs the question is the RITA process broken?

Personally, I think broken is the wrong word. More like flawed.
go read… very good post
sez I, then go check out Jamie Sobrato. Her blog is a blast. As Helenkay said, if you aren't reading it, why not? ::off to see what JS books I have to read, I think I recall ordering one in my last harl order::
You can follow any responses to this entry through the
RSS 2.0
feed.
Responses are currently closed, but you can
trackback
from your own site.