DUCK FLASH: HarperCollins Coup
Monday, September 10, 2012 16:26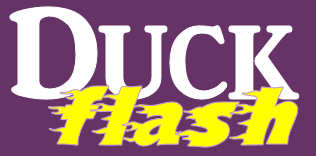 This just in…
HarperCollins has pre-empted World English language rights to The Dark Heroine: Dinner with a Vampire, and a sequel, by 17-year-old online sensation and debut novelist Abigail Gibbs, from Scott Mendel at Mendel Media Group, LLC, for a significant six-figure sum.
~ Abigail is a phenomenon online, publishing The Dark Heroine: Dinner with a Vampire serially on writing website Wattpad since she was fifteen years old. To date, it has been read almost seventeen million times. She has a global following, with readers all over the world who have become fans of her characters as well as of their creator. There is already an enthusiastic online subculture of devotees to Violet, Kaspar and Fabian.
~ Abigail lives in a picturesque coastal village in Devon in the southwest of England, and she has been admitted to Oxford University in 2013 to read English.
~ The Dark Heroine follows the feisty 18-year-old Violet Lee as she is swept into a glittering world of extravagance and luxury, but all the riches of the world can't hide the darkness underneath – embodied in the charismatic but dangerous Kaspar Varn.
~ To satisfy the desire for this fabulous book, William Morrow will be releasing the eBook on September 18, 2012, with a beautiful paperback edition following this coming March.
Consider yourself flashed.
You can follow any responses to this entry through the
RSS 2.0
feed.
Responses are currently closed, but you can
trackback
from your own site.