DUCK FLASH: Some Fun With Lynsay Sands!
Thursday, July 19, 2012 17:22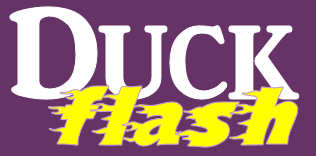 This just in…
Check out this terrific contest from Lynsay Sands!
~ Help spread the word about Lynsay's upcoming release, The Lady is a Vamp, and win!
~ Tweet about it, post it on Facebook, discuss it on your blog or web site, and tell a friend!
~ For each spread of the word, you'll receive an entry in the contest. Don't go crazy, though. Only one entry for each method for four entries.
~ AND if you pre-order TLiaV, you'll double your entries!
~ Win either a Louis Vuitton Monogram Vernis Pegase 45 travel case or one of three signed copies of The Lady is a Vamp.
~ Go here to get all the details. You have until midnight on July 30!
~ Have fun!
Consider yourself flashed.
You can follow any responses to this entry through the
RSS 2.0
feed.
Responses are currently closed, but you can
trackback
from your own site.