REVIEW: No Tan Lines by Kate Angell
Monday, June 18, 2012 1:00
Laura C's review of No Tan Lines (Barefoot William Series, Book 1) by Kate Angell
Contemporary Romance published by Kensington 29 May 12

Normally I don't mind a contemporary romance as light and frothy as a game of beach volleyball next to the roaring surf, but this one feels padded. The conflict between the heroine, the uber-family-oriented, barefoot-in-the-sand Shaye Cates and the businesslike Trace Saunders just doesn't feel real. I would have loved this book as a novella, but as a single title it just doesn't work for me.
The Cates and Saunders families have been enemies for generations. Why? I read the book and I'm still not sure. They share a long stretch of beach. One end is developed by the Saunders family into a gated resort for the wealthy. Next door is the ramshackle, touristy boardwalk beachfront run by the Cateses. But no one killed anyone over it. There's no obvious reason for the two families to be at war so many years later, despite the fact that the Saunders are very successful and the boardwalk the Cateses run is failing.
In order to revive the boardwalk, which her entire family depends upon for their financial security, Shaye concocts a plan to get her professional Beach Volleyball player brother to come home for a volleyball tournament. But to make it work, she needs to "borrow" a couple of hundred feet of beach from the Saunders family, which brings her into Trace's orbit. And once she's there, the sparks start flying.
The romance progresses well, I thought. Shaye and Trace are hot for each other. You do get a chance to watch them learn about each other and learn to respect each other. But as much as Trace might like and respect Shaye, it's clear that she's the one whose whole life will have to change if their romance is ever going to come out of hiding.
Because neither Trace nor Shaye can tell their families about their romance. Which confuses me, because Shaye does everything for her family. She's incredibly close to them. They—and the beach—are her life. She seems simultaneously overly mature in her relationships with them and incredibly immature in her inability to tell the truth about anything having to do with the Saunders family. She doesn't even want to admit to renting one of the boardwalk's stores to Trace's ex-girlfriend because of the association!
And her family's reaction when they do find out is just as immature, but I won't go into that.
The bright spots for me in this book are both the setting, which is wonderfully described, and the volleyball tournament. I suspect that the next book will be about Shaye's brother and Trace's sister, and I might actually read that one, despite this rather lackluster outing, because I love Sophie, the sister, when she's described.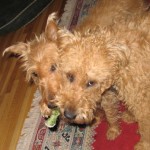 Grade: C+
Summary:

There's a place where the ocean meets the shore, where kicking off your shoes and baring some skin is as natural as sneaking under the boardwalk for an ice cream cone and stolen kisses.

But life isn't all beach for Shaye Cates, even if her idea of an office is a shady umbrella at the water's edge, equipped with cell phone and lap top.

Trace Saunders is her upstanding, button-down albeit handsome nemesis. He thinks only of business.

A century-old feud has separated their families. Yet a volleyball tournament and kids' baseball games draw them together. Beneath the twinkling lights of the ferris wheel, the magic of sea and sand soon sweep away their rivalry.

Suddenly it's summertime…and the lovin' is easy.
You can follow any responses to this entry through the
RSS 2.0
feed.
Responses are currently closed, but you can
trackback
from your own site.