DDS REVIEW: The Kelley Legacy by Various Authors
Saturday, June 16, 2012 1:00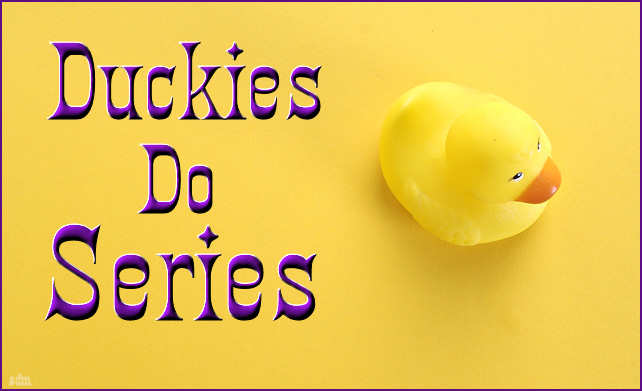 Dinca's Duckies Do Series review of The Kelley Legacy by Ferrarella, Cornelison, Barrett, Cassidy, Kennedy & Dees
Romantic Suspense published by Harlequin Romantic Suspense
The Kelley Legacy Series has a really good story arc with authors I have enjoyed in the past. But the series has the feel of having been rushed to print and some of the books needed to spend more time in editing. If you can get past the editing issues and keep your thoughts on the storylines, you may enjoy the series.
Private Justice by Marie Ferrarella
21 Jun 11
It doesn't take long to get into those editing issues. Private Justice by Marie Ferrarella is undecided just what the senator's name should be. She swings from Henry Thomas Kelley to Henry William Kelley, and just when you decide it doesn't matter,  he is referred to as Hank Kelley. Hmmm. Either way he is an egotistical, self-serving bureaucrat with little regard for his family while trying to save his own hide. At least he is not the hero in any of the storylines. The senator's children get that honor.
Attorney Dylan Kelley doesn't really give a hoot about saving his absentee father's reputation or his hide. The devastation the scandal will bring to the whole family is his concern. He just hopes his mother can live through it. With his family in mind, he mounts a legal defense for his father. This has him working closely with his father's beautiful chief staff assistant, Cindy Jensen, and wondering just what kind of relationship she really has with his promiscuous father.
Cindy is devastated by her boss's actions, wondering just how wrong she can be about men in general. How her respect for the senator remains intact throughout the story as she doubts her ability to judge a man's character is unrealistic at best, especially when we learn she is an abused spouse. How she can be so suspicious of a man who comes to rescue her boss from the mess he has created and throws him the same category as her abusive ex-husband is beyond me. Cindy is made out to be a strong character which just doesn't go along with an abused spouse.

Ms. Ferrarella is laying the groundwork for the whole series, and since I started reading out of order, I find this tale a bit lacking in substance. The hero and heroine are too suspicious of each other and there is a lot of point-of-view switching. Even for a tiny little "Yes" being said, there's a lot of thinking going on and you forget what the question is that the "Yes" belongs to. The whole story is waiting for the other shoe to drop by the others, but it stays stubbornly put for all of the characters. I feel Ms. Ferrarella has gotten the short end of the stick having to write the first book of the series.
Grade: C
Summary:
A family rocked by secrets…When a senator is disgraced by scandal, his hotshot lawyer son, Dylan, rushes to pick up the pieces. Dylan's only ally is the feisty Cindy, whose loyalty to her boss is as compelling as her drop-dead gorgeous looks. The senator's not the only one whose world is in disarray: Cindy's grappling with an unexpected pregnancy and bears scars from the past. The last thing she's looking for is romance, even with a man who's as sweet as he is steely. But little do she and Dylan know that Senator Kelley has even more secrets…secrets that might cost the newfound lovers their lives.
Read an excerpt.

Special Ops Bodyguard by Beth Cornelison
19 Jul 11
Book 2 of The Kelley Legacy centers around the self-centered, egotistical Senator Henry Kelley. The Senator still doesn't seem to have his own best interests at heart, much less his family's or the people putting their lives on the line to protect him. This tale is about his bodyguard who survives Afghanistan only to be put in the line of fire attempting to save this senator character I have grown to dislike immensely.
Bodyguard Gage Prescott has the day shift. After his shift ends, he sets off investigating the small town of Maple Cove, the town near the ranch were the Senator is safely stashed. He discovers Ira's Diner, along with waitress and baker extraordinaire, Kate Rogers. As he tries to admire her from afar, he finds himself embroiled in her life when Kate's sister, Janet, needs protection from her abusive husband, Larry. Time and again Gage manages to get involved with Kate and the relationship grows.
Kate is very protective of the only family she has left, her sister. She's moved to this little town so she could be close by in case her sister needs her, forgoing her dreams of opening her own bakery. There is suspense on both sides in this story – the ongoing mess the Senator has created in his life and the violent drunk of a brother-in-law to Kate. I can only hope Janet doesn't become a story in this series. As for Gage and Kate… all is well that ends well.
Senator Kelley's secrets are still endangering the lives around him. Even a stupid man would call the FBI if his daughter was kidnapped, not to mention a Senator not informing the FBI that a threat was made on the President's life – all to save his own slimy hide. I really don't like this character. I think that is why I keep reading this series. I want to know if he ever gets his just desserts.
Ms. Cornelison has created believable characters and carried over the slime bag of a senator from the first book true to form. Someone even proofread this second book.
Grade: B
Summary:
"I have a mission—and you're not it."
Is it the honey–blond hair? The blue eyes? Gage Prescott can't put his finger on it, but something about the Maple Cove waitress is both sexy and innocent. Not that it matters. The battle–scarred ex–Army Ranger has come to this Montana town as bodyguard to Senator Kelley, not to let a pretty face distract him.

Kate Rogers has her own mission. If, while on assignment, the handsome Gage can assist with her sister's abusive husband, she'll accept that
gratefully. But will their growing passion interfere when their duties involve life and death?
No excerpt available.

Cowboy Under Siege by Gail Barrett
23 Aug 11
Definitely under siege! Everything about Cole Kelley is under siege – his family, his ranch, and his heart. Can he save just one of them? I guess you will have to read it to find out what he has to lose to gain just a little bit of himself.
Senator Kelley is still a self-centered jerk. His daughter is kidnapped and the President's life is threatened and he still has not contacted the FBI. His enemies are destroying his son's ranch and still he tries to save his own ass.
Cole Kelley is running on overload. His estranged father, along with bodyguards, is hiding out on his ranch, his cattle are being killed, his foreman injured, and his daughter is coming in to take care of him. Just what Cole needs, the love of his life coming back to infliact more pain and upheaval in his life. Someone in his employ is working to destroy him and his ranch. This all started when his father showed up.
Meanwhile, Bethany's father is trying to get her to stay out of Cole's affairs and is lying to her about his accident. Not wanting to falsely accuse Cole or anyone of the mischief going on at the ranch, she volunteers to work with the cowhands. She finds bits and pieces of evidence, but instead of telling Cole she keeps the information to herself, which backfires against her. When a fire breaks out and a dead body is delivered with a message threatening her life, it all seems too much to handle. She also finds herself under investigation back in Chicago when a patient dies.
The lack of communication and the supression of information from everyone is a little much. No one tells the truth and all the lies by omission gets old. The author bills them all as smart people making really stupid, selfish mistakes. Everyone is so busy looking out for their own tush, any concern they show for one another comes up shallow. I do have to hand it to Bethany, as she tries to handle her problems on her own. She does realize in the end that sometimes it takes two. It seems like all it takes for Cole is a 'duh' moment, he has an epiphany, and his whole world is suddenly balanced. Only Bethany's mystery is solved, so it's time to read the next book.
It has been interesting discovering this diverse family. I don't care how or what the senator does to redeem himself. He will always be horse's rear end. The story tends to drag in places and there is a redundancy at times where the old hurts and backstory come into play. All in all, though, it is well written and I feel Ms. Barrett does a good job of adding new drama and suspense into Book 3 of a six-book series. I have read them out of order, so this is the fifth story for me. Being able to keep a story alive in such a long series is commendable.
Grade: A
Summary:
Sabotage at the Bar Lazy K Ranch

An unknown enemy of the Kelley family is seeking vengeance on Cole Kelley–and the Montana ranch he'll fight tooth and nail to protect. His land is the only thing Cole can depend on. Not his powerful, scandal-ridden father. And especially not Bethany Moore–the beautiful Native American nurse who left him years ago…and is now back with secrets.

Bethany will go up against her own family to help the Bar Lazy K. And the proud cowboy whose guarded heart is as under siege as his land. Their flame burned brightly once before, but will they have a chance to rekindle it before all is lost?
No excerpt available.

Rancher Under Cover by Carla Cassidy
20 Sep 11
Let's see, we have an undercover FBI agent pretending to be a ranch foreman who has to investigate the shooting at the ranch when he can't go to the local police. The police don't know he is FBI, because, if they do, he blows his cover. And he can't blow his cover because the heroine will hate him when she discovers he is not who she thinks he is. So go ahead and read it. You know you want too.
This is the fourth book in the continuing saga of The Kelley Legacy. There is not a lot to do with the dreaded Senator Kelley, only the extending arms of fate as the wave of disaster befalls his close friends. Senator Kelley good friend, Mickey O 'Donahue, is now wanted by both the FBI and the Raven Head Society. He has gone into hiding and thinks his daughter is safe because she is out of the country.
Caitlin O 'Donahue is a doctor working with Doctors Without Borders in El Salvador. She is taken captive by a group of men and is raped by the group leader. Before he has a chance to kill her, she gets away and returns home to her father's ranch. Her father is missing and can't be located. The old foreman is gone and in his place is a new one, Randall Kane. She needs the security of the familiar around her. She needs her father.
FBI agent Rhett Kane aka Randall Kane, working as the new ranch foreman on the O 'Donahue spread, is not there to protect the suspect's daughter. When the bullets start flying, saving her is all he can think about. Not knowing if they were meant for her or someone thinking he was her father just adds to the mystery. He realizes something has happened to her on the drive her home which causes her to be withdrawn and nervous.
Ms. Cassidy has done a wonderful job of developing believable characters with heartwarming situations coming to life. As the story unfolds, bringing them together, you know it is all going to fall apart because it is built on a lie. With every paragraph you hold your breath, waiting for them to come back together for that happy ending. When they do, Ms. Cassidy leaves a smile on your face.
Grade: A
Summary:
American surgeon Caitlin O'Donahue nearly lost her life doing volunteer work in the sultry jungles of El Salvador. She escapes to her childhood ranch to discover her father is in hiding. Now the place that was once safe seems dangerous. The only man she can trust is a stranger—a gorgeous rancher with an agenda and deep-set secrets.

Undercover agent Rhett Kane is hellbent on busting Caitlin's father. His assignment doesn't include protecting Caitlin…or taking her under cover in the most sensual way. When his dual lives collide, he's left with the ultimate choice. Will he choose love over duty—and will it cost him his life's mission?
No excerpt available.

Missing Mother-to-Be by Elle Kennedy
18 Oct 11
Wait a minute… The hero is the bad guy but the mommy-to-be doesn't know? And the bad guy is the daddy but the hero doesn't know? Oh yes, that's right, the author keeps telling me the heroine's a blonde. Wait, maybe I better go look in the mirror and check my hair color. I am starting to like this story. Maybe I'm blonde too. Yep, I'm definitely blonde. So I will keep reading. However, I don't think any blonde could be this dense.
In Missing Mother-to-Be I am not sure how realistic the author is. She keeps mentioning that the heroine is blonde, obviously now. I can't figure out if the author keeps reminding us about Lana's hair color for a reason. We're talking rich, blonde, gullible. I don't think Ms.Kennedy has a realistic bone in her body where this story is concerned.
After discovering she is pregnant, Lana takes off looking for the 'one-night-stand' man she met at the museum while sketching, only to find his face in the crowd when she is kidnapped by a couple of thugs. As it turns out, the baby's daddy is one of them. Lana decides to keep her pregnancy a secret as she fumes over being set up and used. Now she has to decide just when it is a good time to tell your kidnapper he is going to be a father.
Never intending to make contact with the subject, Deacon follows his instincts when Lana speaks to him in the museum. He makes more than contact – all the way to the bedroom. After the kidnapping he stresses to Lana that his boss doesn't need to find out they've met. The only way he can keep her safe is if he can keep others away. And it surprises him just how safe he wants to keep her. He doesn't want to see her harmed. He's just in it for the money. He's not even sure what he's gotten himself into, only that it pays well enough that he can set himself up in a legitimate business.
Lana keeps his secret since Deacon is put in charge of her keep. She tries to convince him to save her. You would think she might get through to him if he was told about the baby. So again I am reminded she is less than practical or anywhere near intelligent enough to realize self-preservation needs to kick in. She pulls some really dump stunts like drawing pictures of her captors and leaving them out so the ring leader can find them, like he is going to let her live to identify them. Even Deacon knows his boss saw the pictures and still he doesn't make a plan to get her away. When someone does come to rescue her, Lana is so stupid she gets her rescuer killed and feels sorry for that and herself.
I like my hero and heroines with a little more intelligence than what I find in this story. The whole series starts off because of Lana's egotistical, self-serving senator father. I would rather have done away with him in the first book and just put everyone out of their misery. But because of him we have a whole series of which I have read a couple now. I don't know how much more I am going to punish myself. The characters are well developed, they're just not people I care to read about. But, despite all this, I may have to keep reading just to get the different takes on the nasty ol' secret the Raven's Head Society has in trying to take out the president by torturing everyone around Senator Kelley.
As I've been saying in defense of the writers of this series, I feel they may have been rushed into an unrealistic deadline. All the storylines are good and I have really enjoyed these authors in the past. So I don't think this will be putting them on my do-not-read list.
Grade: C
Summary:

Lana Kelley never imagined the magical night she shared with a stranger would result in pregnancy. But when she's kidnapped, Lana is shocked to discover one of her captors is none other than the father of her unborn child.
Mercenary Deacon Holt can't understand Lana. She should hate him. Instead, she refuses to believe he's coldhearted. Though Deacon tries to remain detached, he can't deny he still wants Lana.

And when Lana's life is threatened, Deacon will risk all to help her escape….
Read an excerpt.

Captain's Call of Duty by Cindy Dees
15 Nov 11
I find this last story of the Kelley Legacy a very good read. Ms. Dees has done a great job of wrapping up the storyline, even giving Senator Hank Kelley a semblance of moral fiber. He is still the character I love to hate.
Jim Kelley is the eldest son of the Kelleys'. He is military all the way and finds himself in a position to take down the almighty Raven's Head Society who has put his father in a coma and kidnapped his sister. His sidekick in his op is none other than the little sister of his best friend who died when they were teens. He carries some guilt over this and tries to protect her and stay away from her at the same time. We all know how that turns out, but it is interesting how they get there.
Alexandra Mendez has tried hard to fill her deceased brother's shoes. She even enlisted in the Army. She has downplayed the girly part of her brain for so long she hardly recognizes herself when she has to do all the girly stuff on her uncover mission. Her computer skills and intelligence levels are top notch and get her up there with the best hackers, which is what is needed to bring down the secret society threatening the nation. Hacking is easy; it's the pretending to be Jim Kelley's lover that is the hard part. The pretending to be in love with someone you are in love with without letting it slip that you really are in love is almost impossible.
The storyline has a few surprises and I am not going to spoil them here. You will just have to read the grand finale all for yourself. I, for one, never saw it coming. One inconsistency in the story is Jim and Alex are on a strange boat after scuba diving and all of a sudden Alex has her laptop? Unless I missed something somewhere, since I was reading on into the night. This did not spoil the story for me, though. The concept is very established and the characters are well developed with sound backgrounds for what holds them back and brings them together. Telling a woman you love her after the big climax is a huge 'no no' for me. But with the heroine's thought pattern, it works right into the story beautifully. Again, Ms. Dees carries this off gracefully. I will be reading much more of her tales of adventure and love in the future.
Grade: A
Summary:
"Mendez? What happened to you?"

Captain Jim Kelley was thunderstruck. Suddenly Alexandra Mendez had gone from one of the guys, kid sister and tomboy to all woman. Alex was under his command on a dangerous undercover mission, but Jim had to keep reminding himself they were only pretending to be lovers.

Alex had loved Jim all her life, but they'd always been just friends. Now working together to thwart an assassination plot, their cover required her to unearth her femininity. Jim's sudden attention was unexpected…and thrilling. But was Jim just infatuated by her looks, or was it her he wanted?
No excerpt available.


I feel on the whole The Kelley Legacy is a good read. Some of the stories seem to have been rushed to release with all of those editing errors. As standalone authors, each holds their own very well here. It is definitely worth your time to find out how this conspiracy against the US government unfolds, with all the characters finding love along the way.
Overall Grade:  B
You can follow any responses to this entry through the
RSS 2.0
feed.
Responses are currently closed, but you can
trackback
from your own site.