REVIEW: Run From Fear by Jami Alden
Friday, March 23, 2012 1:00
Laura C's review of Run from Fear by Jami Alden
Romantic Suspense published by Forever 1 Mar 12

We meet both Talia Vega and Jack Brooks in the previous books in Alden's series, but they are only sketchily defined, especially Jack. I was really looking forward to their book and waited for it with no small impatience!
Talia has a horrific past. She fell in love with a man who turned out to be a big-time gangster who pimped her out under the guise of having her run his nightclub, which he filled up with girls he brought in as sex slaves. When the girls got out of hand, he had them killed by a sadistic monster, who eventually turned his sights on Talia. Talia survived only with Jack's help and a lot of luck.
When this book opens, Talia and her younger sister Rosie are getting their lives back together. Talia has a job in a restaurant and bar, and Rosie is in college. When Jack shows up, Talia is not happy to see him. After all, he's seen her at her worst and he knows all the secrets she wishes she could forget.
What Talia doesn't know is that Jack has never been far away. He's watched her, waited for her to get on her feet, even supported her in ways she has no clue about. He wants her to feel strong so that when he comes back into her life she feels like an equal. So when he thinks she's in good shape, he lets himself be seen.
But someone else is hanging about in the shadows, too, and his motives aren't so pure. He remembers the sick killings performed by the man who took Talia hostage and aims to go that lunatic one better, by completing his collection with both Talia and Rosie.
I must admit, I found this book a bit of a letdown in places. I understand Talia's need for independence, but I felt as if she pushed Jack away too hard for too long. Plus, I really thought that if she were as concerned as she's been shown to be about her sister, she would have kept in touch with Jack if for no other reason than to protect Rosie. And why she couldn't understand Jack's need to protect her when she has the same issue with Rosie was particularly difficult.
On the other hand, I liked the way their conversations developed and the strength of character of each of them. When they were "on," I was totally absorbed in the story. (I wish she'd left the bits of the villain in his day-to-day life out. I found them dull. But then, I am finding more and more of those kinds of bits dull and the serial killers weak-seeming.)
It takes a long time for Talia to truly trust Jack, and watching her come to that point is definitely a worthwhile journey, even if it's a little more uneven than the previous two books in the series.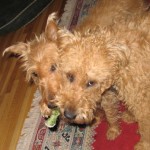 Grade: B
Summary:

More than anything, Talia Vega wanted to leave behind her harrowing past. Moving eight hundred miles away, she succeeded . . . until the one man who knows her darkest secrets wanders into the restaurant where she works. Now the agonizing memories come crashing back-along with an undeniable desire for Jack Brooks, the ex-Green Beret who rescued her from a sadistic monster two years ago.

Jack Brooks knows that showing up unannounced is a purely selfish move. Talia doesn't need his protection anymore, but he can't get the raven-haired beauty out of his mind. And when a twisted madman is hell-bent on resurrecting her torturous past, Jack vows to do anything to keep her safe-even risk his own life to save the only woman he's ever loved.
Read an excerpt.
You can follow any responses to this entry through the
RSS 2.0
feed.
Responses are currently closed, but you can
trackback
from your own site.