QQ Reviews: Spice Briefs by Calhoun, Adams & D'Otare
Saturday, January 1, 2011 1:00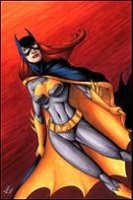 Wendy the Super Librarian's Quick Quack Reviews of Three Spice Briefs by Anne Calhoun, Elisa Adams and Destiny D'Otare
Contemporary erotic romance, contemporary erotica and historical erotic romance ebook short stories released by Spice Briefs Mar – Aug 2010

The amount of titles I currently have loaded on my Sony Reader is reaching Defcon 5, so that must mean it's time for me to plow (heh heh, I said "plow") through some a naughty Spice Briefs.  I tend to buy and read these stories in a totally random way, so it was just dumb luck that two of them feature rather dominant heroes.  Also dumb luck that I found the historical offering not only lacking, but just plain wrong.
What She Needs by Anne Calhoun
Contemporary erotic romance ebook short story released 1 Aug 10

The heroine (you know, I don't think her name is ever mentioned), has a long-standing arrangement with a guy named Jack.  When he's ready for her company, he calls her and tells her to meet him in the hotel bar.  If she agrees to meet him, she does everything he asks of her.  She's free to say no to the invite, but if she says yes?  Jack is running the show.  And our heroine?  Always accepts the invitation.
Starting this story I pretty much knew where it was going, but that didn't make it any less of a smokin' hot read.  Calhoun does a wonderful job of writing anticipation, building it to a fever pitch.  And while the power dynamic in this relationship did make me a wee bit uncomfortable, that ending I knew was coming (no pun intended)?  Yeah, I can see a lot of female readers relating to it in a "OMG! Did this author just read my mind?" sort of way.
Grade: B
Summary:

When Jack calls and tells me to meet him at the hotel bar, I know two things: he wants to sleep with me, and I will let him.

That's the rule. If I meet him, I do what he asks, when he asks. I'm free to decline his invitation, but if I accept, I'll do what I'm told.

I always accept.

For Your Pleasure by Elisa Adams
Contemporary erotica ebook short story released 1 Jun 10

Callie has a hunky new neighbor.  A neighbor who hasn't put up curtains in his bedroom yet.  For two weeks she has been suitably entertained, although she wishes he'd look her way.  Then one evening, he does!  And it turns out the lusty feelings are mutual.  Ooo la la!
This story straddles the line between erotica and erotic romance.  There's a nice, positive, and realistic ending, but not quite "final" enough to tip the romance scales.  Again, there is a lopsided power dynamic here, but one that's easy to roll with considering Callie likes being "punished" for spying on the hero.  A well done tale with some voyeuristic kink.

Grade: B
Summary:

For two weeks Callie has been watching—and lusting after—the sexy neighbor she can spy changing in his bedroom. Even though she knows nothing else about it him, all of Callie's fantasies have revolved around him since the first time she saw him. It's too bad he never looked her way. Or so she thought….

On a steamy summer night, her neighbor catches her enjoying his private strip session—and comes over for a visit. And Callie soon learns that the only thing better than watching is being part of the show….

No Excerpt Found.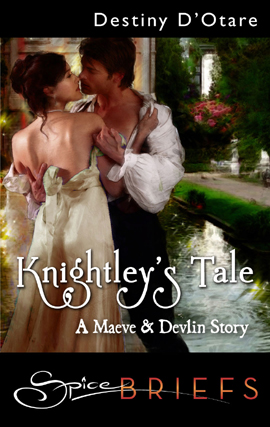 Knightley's Tale by Destiny D'Otare
Historical erotic romance ebook short story released 1 Mar 10

Maeve and Devlin are a happily married couple who like to tell each other naughty stories.  This time out Maeve challenges Devlin to slut up one of her favorite Jane Austen novels.  His response to this challenge?  Knightley chases after Emma when she takes off to attend a debauched costume ball.  Emma's plan?  Seduce Knightley.
I must have been asleep at the wheel the day I bought this story, because had I realized it was essentially fan fiction, I wouldn't have bothered.  I'm hardly an Austen purist, but everything about putting these characters in this scenario screamed, "Ack! Wrong, wrong, wrong!" to me.  It doesn't help matters that Knightley chooses a laughably absurd location to deflower Emma, and that Emma compares Knightley's "Little Knightley" to a palm tree.
Hand to God, a frackin' palm tree.
I read erotic stories to get the hell away from silly virgins, but that's me.
This didn't work for me so much that I'm tempted to slap it with an F, but honestly?  I do think there is an audience for this out there.  Maybe the same folks who want to read about Harry, Ron and Hermione having a threesome, but an audience nonetheless.
Grade: D-

Summary:

Maeve and Devlin are back with another erotic tale—this time featuring two of Maeve's favorite characters as you've never seen them before….

Mr. Knightley is shocked that his beloved Emma would risk her reputation by visiting the scandalous pleasure garden where the ton's sexual fantasies came to life. He's even more astounded—and aroused—by Emma's transformation into a sensual goddess intent on being initiated into the secrets of love…by him!
You can follow any responses to this entry through the
RSS 2.0
feed.
Responses are currently closed, but you can
trackback
from your own site.