REVIEW: The Captain's Wicked Wager by Marguerite Kaye
Thursday, April 15, 2010 1:00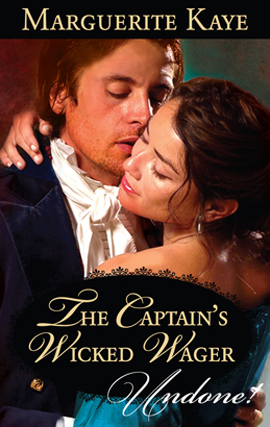 Wendy the Super Librarian's review of The Captain's Wicked Wager by Marguerite Kaye
Historical romance ebook short story released by Harlequin Historical Undone 01 Nov 2009
What makes a story work, or not work, for a reader, often comes down to a simple matter of timing.  This short story by Marguerite Kaye has been languishing on my Sony Reader for months now.  Life got busy, other obligations came forward, and it kept getting pushed aside.  If I had any inkling that it was set during the Georgian period, I have no doubt I wouldn't have neglected it for so long!  It's been ages since I've read a romance set during this time period, and this sexy short story hit the spot.
Isabella "Belle" Mansfield needs money, and needs it fast.  So she powders her hair, dons the nicest gown she can find, musters up some courage, and is letting it all ride at one of London's most notorious gambling establishments.  However, the sheer size of her bets are giving the matron some pause.  She doesn't have time to nickle-and-dime her way through the evening.  She needs to win bets, large bets, and fast.
Captain Ewan Dalgleish spies the breathtaking Isabella, is immediately intrigued, and tells the house that he is willing to cover her bets.  When her luck runs out, Ewan proposes another wager.  He'll let her keep her money, and in exchange she must spend the next three nights with him, each evening resting on a roll of the dice.  Whomever wins the roll, will get to decide just how their evening will be spent.
This is a fairly conventional set-up, featuring the well-worn trope of the desperate heroine who enters into a wager with the hero, because honestly, she has very limited options.  It's a plot that sings here because the author excels by writing anticipation.  The desire, and lust, that both characters feel for each other practically leaps off the page, and while this is a short story, I never felt like any of their encounters were rushed or rushed into it.  It was sexy and tantalizing!
What doesn't work so well is the time frame.  The Harlequin Historical Undone line adheres the traditional romantic happily-ever-after, and for readers to buy into the one in this story, they need to be able to roll with the time table.  Hero and heroine do not know each other previous to meeting in the first couple of pages.  They spend two days, and three nights together, before declaring that they're perfect for each other, want to spend their lives together, and admit their undying love.  Certainly, some readers are going to be able to roll with this, and some just flat-out aren't.  I'm definitely not a love-at-first-sight kind of girl, but given the sizzle of the sexual encounters, and the anticipation factor that the author writes so well into the story?  It worked for me here.  It wasn't perfect mind you, but I'm not left with the sinking filling that this relationship is on a slow boat to doom either.
This was a sexy, sizzling read, set against the exciting backdrop of Georgian London, post American Revolution.  Kaye appears to be a relatively new face in the Mills & Boon/Harlequin universe, and if this short story is any indication, I can't wait to see what she can do with a full-length story.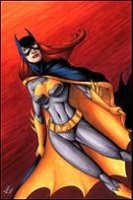 Grade: B
Summary:

Captain Ewan Dalgleish was as famous for breaking society's rules as for his daring exploits on the battlefield. Yet nothing could truly satisfy his need for excitement…until he laid eyes on beautiful Isabella Mansfield at the gaming saloon, staking her future on a turn of the cards. Her enticing combination of sensuality and haughtiness intrigued him as much as his notorious reputation interested her. So when Belle loses the money she so obviously needs, Ewan can't resist making a scandalous wager: that in return for her money, she must spend three nights with him, each starting with the roll of the dice…and ending however the winner chooses…

No excerpt found.
You can follow any responses to this entry through the
RSS 2.0
feed.
Responses are currently closed, but you can
trackback
from your own site.