Valenduckie: It's a Wrap!
Saturday, February 23, 2008 9:22

Before Syb fires me for being the worst Contest Duckie ever (I admit it, I'm WordPress challenged, or as Syb said, I have bevnical difficulties), I wanted to send some luv out.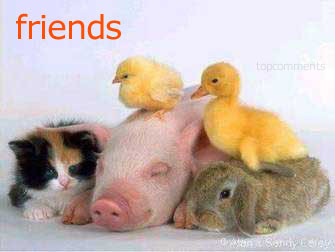 I hope all of you had as much fun during Valenduckie Week as we did. Our Guest Cupids and all you "honorary duckies" created sooo much fun and mayhem! HUGE THANKS to all of you for joining us– YOU made it a party for US, too. (I have to admit that enticing Phil Gigante to come play with us made me as giddy as my 5th grade self was with The Monkees.)
And kudos to our duckie wrangler, Sybil. All those techie hiccups with the new template were worth it because Valenduckie Week showed us that Syb's vision of a magazine style site was spot-on. The mayhem and craziness were safely contained within the Events box while Reviews and Ponderings each had their own spotlights without getting lost in the Valenduckie mayhem.
If you haven't done so yet, check our Guest Cupid posts to see if you've won a prize. Look to your right… see the sidebar? Click on the names to read the Valenduckie stories from our Guest Cupids. Many of them also held contests, so click on the word "Winner" next to their name to see who scored some Valenbooty.
Want to browse through all the posts? When you go back to the front page, look at the title of this section– "BUZZ, GUESTS, and EVENTS – click for index" -OR- the "Category"/ "Guest & Events" drop-down box at the bottom of the right sidebar. Click on them to scroll through everything in that category. Or look down at the bottom of this post. See the blue "tag" that says "Valenduckie"? Click that to browse only the Valenduckie posts. (BTW, those methods also work to browse our Reviews and Ponderings, too.)

You remember all those prize packs o' books that our Valenduckie Surprise winners won? Well, I want to shower some duckie love and thanks on the people that made those prizes possible.
Our two Purple Prose Challenge winners, Sharmi and Little Lamb Lost, have picked a couple of good ones from Samhain, who gave them each a choice of any ebook download…



Berkley will be sending the winner of our Valenduckie Surprise #1, Katiebabs, the following:



Also from Berkley, the winner of Valenduckie Surprise #3, JSL, will receive…



Valenduckie Surprise #2 winner, Azteclady, will receive her books courtesy of Harper Collins (Avon, Avon Red):



Our Mission imPossible winner, Becky, will receive:

From Dorchester (mailed separately)


Courtesy of Jo Goodman, SIGNED by Jo Goodman


Courtesy of Avon Red


Courtesy of Kresley Cole, SIGNED by Kresley Cole


Courtesy of Bantam Dell


[Oh, btw, if Syb is crazy enough to keep me on as the Contest Duckie, be prepared for spontaneous outbursts of "SYB! I wanna give something away!"]
You can follow any responses to this entry through the
RSS 2.0
feed.
Responses are currently closed, but you can
trackback
from your own site.