Duodecimal: J.R. Ward's 12 True Moments in Movies
Monday, December 31, 2007 16:43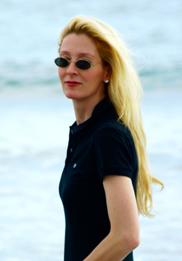 J.R. Ward (a.k.a. Jessica Bird), author and personal bitch scribe to the Black Dagger Brotherhood, shares some of her favorite cinematic experiences with us.
Don't forget that her reader message boards re-open tomorrow, 1 Jan 08, at noon US Eastern! And that her next BDB entry, Lover Enshrined (BDB Book 6) , comes to us June 2008!

My 12 Favorite Christmas/New Year's Eve Movies
| | |
| --- | --- |
|   |  12. Scrooged. Bill Murray confronting the ghosts of Christmas past, present and future as TV exec.  |
|   |   11. One True Thing. Okay, not so Christmassy necessarily, but GREAT screenplay. |
|   |   10. How the Grinch Stole Christmas. Not the Jim Carrey one – the animated classic. Not a movie. Still watched it like every year when I was little. Had to go on the list. |
|   |   9. Jingle All the Way. The Terminator does Christmas – competes with Sinbad for toy. Does battle with Phil Hartman's reindeer. |
|   |   8. Star Trek II: The Wrath of Kahn. Long story. Watched it one vivid Christmas vacation and yeah, now I always associate it with the holiday. Great movie. Ricardo Montalban in a burlap sack suit. William Shattner at the helm. Always magic. Except for those ear worm things. EW. |
|   |   7. Elf. Yeah, Will Ferrell. Parts are really stupid and not in a good way. But I still laugh. |
|   |   6. When Harry Met Sally. Last scene, New Year's Eve. "I hate you, Harry, I really hate you…" 'Nuff said. |
|   |   5. A Christmas Story. Ralphie. The Red Ryder bebe gun. The soap in the mouth. The leg lamp. The dogs and the dinner. TBS does a marathon Christmas Day and I watch it every year. |
|   |   4. While You Were Sleeping. LOVE it. Yes, it's chicky for my tastes, but come on- Joe Jr.? With her shoes on? And at the end? Luuuuuucy, I got something to ask you? Awwwwwwwwwww… |
|   |   3. Scrooge. The original black and white version that scared the p*** out of me when I was younger. Still love the scene when the old guy goes running out into the snowy street with his night cap on. Tiny Tim and that little crutch. Ugh, gets me EVERY stinking time. |
|   |   2. Trading Places. Dan Ackroyd putting a smoked salmon into a grotty santa suit. Eddie Murphy explaining how G.I. Joe with the kungfu grip effects the national economy on Christmas. LOVE IT. |
|   |   1. Die Hard. Wherein the following classic line in American cinema was uttered: "Yippee-kyay-motherf***er." Absolute favorite Christmas movie EVER. |

How about you readers – any movies remind you of a time in your life or a holiday?

You can follow any responses to this entry through the
RSS 2.0
feed.
Both comments and pings are currently closed.